Technical Parameters
| | |
| --- | --- |
| Airflow: | 500-3000ml/min/cm2 |
| IP Rate: | IP67-IP68 |
| Vent Membrane Material: | ePTFE |
| Vent Membrane Features: | Waterproof,Dustproof,Breathable |
| Vent Membrane Color: | White |
| Temperature: | -40℃~115℃ |
| Material: | TPE |
Design & size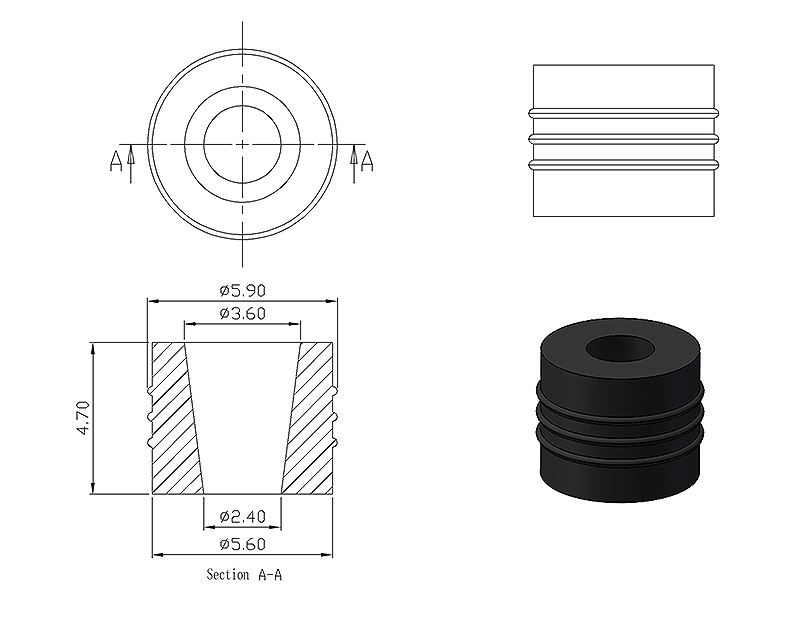 Use advantage
1. After 30 minutes of lighting, the humidity of unused waterproof breathable cap is 98%, and that of used waterproof breathable cap is 82%.

2. After turning out the light, after 35 minutes, the humidity of the non-used waterproof breathable cap dropped to 37%, and the humidity of the use of the innovative waterproof breathable cap dropped to 23%.
Technical Solution
What are the main applications of waterproof and breathable vent plugs?
At present, it is mainly used in automobile parts and other fields.

How to choose waterproof vent plugs correctly?
The selection of waterproof air permeable plug is related to the use direction, working temperature, installation size, air permeability requirements, protection requirements, etc. Please consult the sales staff of the company.

What is the air permeability of the waterproof vent plug?
The air permeability is determined by the material of waterproof breathable vent membrane, the effective ventilation area and the difference between inside and outside pressure.

How to test the performance of waterproof vent plugs?
Waterproof and air permeability performance have professional equipment testing, simple testing methods can consult company sales staff.
Protection & application
Installation & instructions
Dimension Diagram for Installation and Coordination of X156 Waterproof Breathable Vent Plug
Make sure the installation surface is clean and free of oil stains, particles and other contaminants. If necessary, the installation surface can be cleaned with isopropanol. Make sure the surface is dry before installation.